"Melody of ecumenism can complement, lead to harmony of faiths"
January 25, 2019
That All May Be One / Fr. Rick Ginther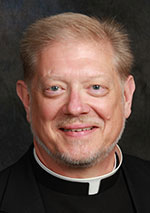 A few years ago, I was introduced to a personal insight tool, Strengths Finder. Of the potential 34 possible strength areas, second for me was "harmony."
Now those who knew me then—and now—agree this is a strength of mine. However, until I saw the printout, I had not known this as a strength. I just knew I disliked conflict!
The two are related. However, the latter is a negative view. (The glass is half empty). The former is a positive view. I prefer the former because it is productive and generative.
The revealing of this "strength" called to my musical side. While an amateur musician, I recognize in most music a bent more toward harmony than dissonance.
Harmony allows multiple voices to revolve around a common melody. The sound produced is life-giving. A well-crafted melody leads to continual development of the "idea."
The fuller score of the music calls at times for rest, pause, strength, gentleness, even dissonance to express an idea in conflict. Yet the latter more than not resolves into harmony.
These reflections always remind me why I minister in ecumenical and interreligious dialogue.
Such dialogue seeks to produce life among the participants.
It allows for multiple voices around the common bond of faith in Christ Jesus.
Such dialogue allows for multiple voices around the melody of humanity's common search for the transcendent.
It endeavors to reveal the melodic moral principles by which humanity, through the transcendent, is commanded to live.
Such dialogue seeks to produce a symphony of justice, peace and dignity.
Sadly, I must cling tenaciously, even jealously, to what I have found in this ministry.
For the world in which we live shouts and stamps dissonance, discord, single melody lines of ideology and isolation.
The world in which we live seems to hate harmony, dialogue and the dignity of humanity that is the foundational melody of our creation.
My jealousy prompts me to experientially immerse myself and invite others to immerse themselves in our common song.
What are such experiences offered within our archdiocesan boundaries that help to unify the strident divisions of faith and life?
A prayer service for Christian unity.
A memorial service for victims of religious hatred and intolerance.
A pamphlet describing the facts on another religion.
A parish presentation on the facts about another religion.
An "Apostles' Build" by Habitat for Humanity or an "Interfaith Build" by the same.
A "Family Promise" housing week by local churches, or together with a mosque, temple or synagogue.
A local clergy association that not only gathers, but also seeks common caring ministries, peace rallies, Lenten soup and bread gatherings, and prayer services.
A community advocacy group that has strong links to a Christian clergy group or interfaith clergy group.
An interchurch center that now houses not only church leaders but also interfaith agencies.
An interreligious group of leaders discerning how to raise in mosque, temple and church congregations a greater awareness and advocacy for affordable housing in the greater Indianapolis area.
An archdiocesan office, through a committed archbishop and advisory board, which strives to maintain the momentum of the flow of these experiences.
The melody is ours to sing and complement with many harmonies. Moreover, it can also complement our hearts.

(Father Rick Ginther is director of the archdiocesan Office of Ecumenism. He is also pastor of Our Lady of Lourdes Parish in Indianapolis.) †
Tags:
ecumenical
,
interfaith
---